AutoCount POS.
Beyond Accounting Software
GPiS Solutions Sdn Bhd provide package of software is Clinic management system, Autocount Accounting Software (GST / SST Software), Point of sales (POS Software), Autocount customization, mobile application.The software solutions is to cater the needs of accounting firm, business entrepreneur to manage their business.
Why AutoCount Pos 5.0
TOP 5 FEATURES
It Is Not Just Pos
We integrate it effectively with inventory control, sales, Purchase and accounting modules.
SST Compliant
All tax-related transactions, receipt printing and posting of SST to accounting system are compliant with statutory requirements. Besides, integrating with the fully compliant AutoCount Accounting 2.0, you will have a complete list of tax codes and you may view POS transaction listing by tax code report.
Fully Integrated With Accounting 2.0
Posting of POS transaction from multiple outlets to Accounting 2.0 will immediately produce accurate P&L reports. You shall be better supported by one same software vendor, as the result of avoiding problems with 3rd party integration, software upgrades/updates, and issues of data integrity.
Posting Friendliness
Posting to Accounting is now more efficient and controllable. You may define the Date Range and Outlets to be posted, check Daily Posting Summary, drill down to view details in source document, and assign different posting accounts for payment methods, taxes, rounding adjustment, voucher, deposit, service charges…
POS + Inventory Control
Smart inventory control in stock availability, replenishment, costing, pricing, analyzing and reporting. Popular features such as: stock categorization, Item Image, multi UOM, replacement items, barcode, stock level & backorder controls, batches, serial numbers, multi-locations, BOM, item assembly and Item Disassembly.
Place order via AutoCount On The Go (AOTG)
AOTG allows users to access Accounting 2.0 using mobile devices (laptop, smart phone, tablet). For those who are also using AutoCount On The Go (AOTG), Daily order from HQ has become much more easier with a new feature called "Self-Ordering".
POS + Purchase/Sales Modules
Packed with Sales module, Purchase module, analysis reports, real-time posting to accounting modules (GL, AR, AP), customizable documents and running numbers.
Preserve Your Business Uniqueness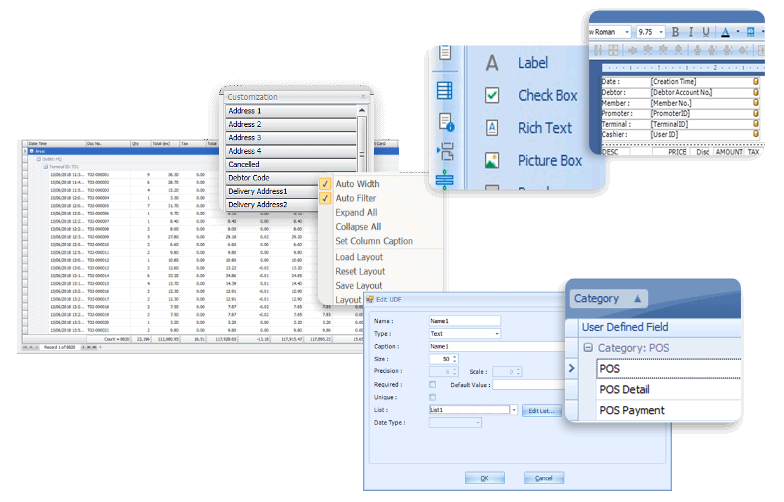 Beside fascinating standard features and reports, you may customize the system to meet your unique requirements of operation and report.
Built-in Report Designer
Support Plugins
Customizable Grid Layout
Create Your Own User-Defined Fields (UDF)
Support Report / Application Scripting
Software SDK and Web API for Software Integration.
Nothing Is Out Of Hand
Sometimes a tiny change, be it a change in habit or the tools, can make a big difference in the result. We looked into your requirements, even the tiniest one, hoping to offer greater working experience of convenience.
Size Doesn't Matter
From standalone to multi outlets, from single counter to numerous cashiers, from simple operation to demanding retailing, the system is flexible enough to handle them all well.
Multiple Outlets Management
You still enjoy full control of all the outlets with centralized control and powerful synchronization, All settings are done in HQ and will be synchronized to outlets. Sales transactions will be automatically "pushed" from outlet to head office and will be consolidated for reporting.
Real Time Synchronization
To establish data consistency between HQ and outlets, Real Time synchronization setting is made easy and simple. It is a one-time setting and needed to be performed only at HQ. You may define what & when to be synchronized.
Offline Protection
Your business continues to run smoothly without interruption even when internet connection is lost or outlets are disconnected from HQ. The data will be synced to head office as soon as your internet connection is reestablished.
Training New Staff
Don't worry, with standardized layouts and simplified display that support touch screen monitor, they can get familiarized quickly. Setting of favorite shortcut keys/buttons can also be exported/shared with other outlets. You may also make use of syntax formula to accelerate data entry process.
Support Various e-Wallets
AutoCount POS supports most of the popular e-Wallets payment such as AliPay, WeChatPay, Boost, MayBankQR, Touch n Go… Beside saving rentals of payment terminal devices, you enjoy promotional rate on transaction charge when using AutoCount POS e-Wallet.
You Are The Boss, Get The Story Told
Data is captured, reports are generated, but you want more! Enjoy the fun of constructing your own sales analysis report. Feel the excitement of accessing to real time sales status via mobile Apps and email notification on outlet daily sales closing, and Business Intelligence Reporting system such as Pivot Table Sales analysis and many more Sales analysis.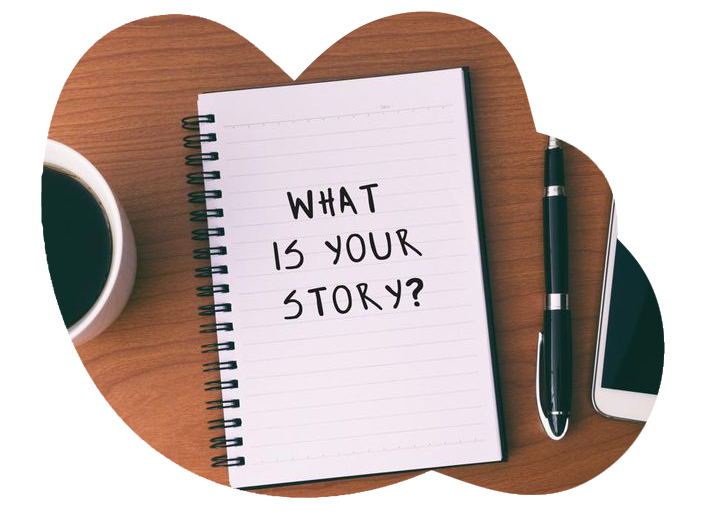 Cloud-Based eDashboard App
AutoCount POS e-Dashboard app is designed to presents retail or F&B sales reporting metrics in a way that is easy to digest.It is a one-of-a-kind cloud-based mobile sales app to easily track and monitor outlets sales performance from wherever you are, at any time of the day. It is available for AutoCount POS 5.0 supporting both Android and iOS mobile devices.
Business managers can access real-time sales report through a mobile-friendly sales dashboard on the go.
View outlets sales data at a glance with filters option to keep an eye on daily/hourly sales transactions.
Setting outlet daily, weekly or monthly targets and track performance progress on set targets.
Drill down your sales data to gain insights for:

multi-branch or multi-companies sales performance make sales data comparison to help you identify trends or problem areas that need attention.
Top sales ranking by amount and quantity to make sure you always have sufficient top-selling products in-stock.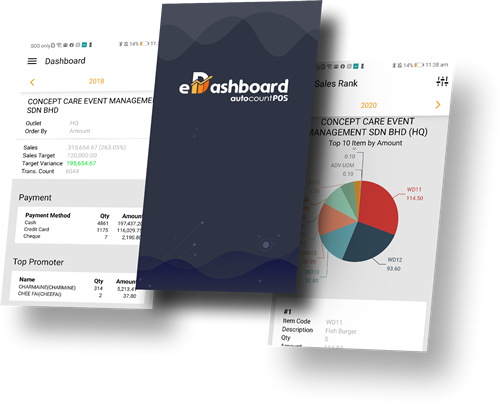 Retail POS software that helps you provide outstanding service
Complete Solution for F&B Industry
Contact us for a Point of Sales Software walkthrough